Senior Amar Bhardwaj '20 Awarded Marshall Scholarship
Dec 09 2019 | By Jesse Adams | Photo Credit: Jane Nisselson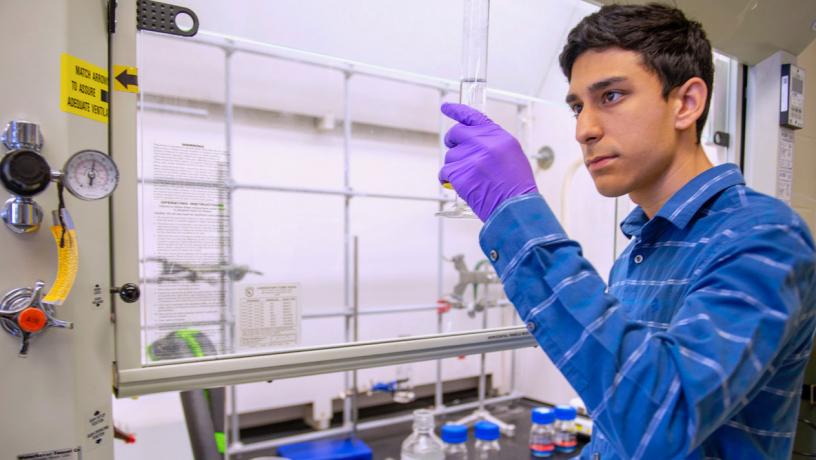 Columbia Engineering senior Amar Bhardwaj has been selected to receive the highly prestigious Marshall Scholarship, which supports up to 50 top young scholars from the United States to pursue graduate study at colleges and universities across the United Kingdom.
The good news arrived at an inopportune moment, remembers the chemical engineering major.
"I was actually in the middle of a midterm when the call came in," he laughs. "It was quite difficult to complete the exam afterwards, but it was a welcome call nonetheless!"
Bhardwaj—previously a recipient of the Udall and Goldwater Scholarships—is among just 46 undergraduate seniors selected from more than a thousand promising applicants nominated by their institutions of study. The accomplished sustainability researcher and advocate will spend a year each at the University of Edinburgh and Imperial College London, taking a multidisciplinary approach to the science, economics, and policy of implementing renewable energy technologies.
"My ultimate goal is to engineer solar fuels technologies that will be widely deployed," Bhardwaj says. "To best position my research towards implementation, I need to also understand the facets of sustainable energy deployment that exist outside the lab."
In Edinburgh, he will pursue an open-ended MSc in Energy, Society and Sustainability. Then, in London, he plans to lead a project in spectroscopy-based solar fuels research with a pair of leading experts in the area. While U.S. solar fuels research tends to focus on developing new catalyst materials, Bhardwaj notes, the U.K. is a global leader in spectroscopy, a powerful technique for understanding in detail how solar fuel catalysts operate. He hopes to leverage the experience in his PhD work and eventually as a professor at a major research university innovating more efficient and environmentally friendly sources of energy.
Though a global traveler—he grew up in Hong Kong for a time and earlier this year took first prize at a research poster competition in Saudi Arabia—Bhardwaj has yet to visit the U.K. In addition to two years' tuition, the Marshall Scholarship also provides a living stipend, and he's looking forward to getting to know the country and its people.
The announcement was the culmination of an arduous application process spanning months: after gathering a range of recommendations and completing an extensive array of application materials, Bhardwaj was summoned downtown to the British Consulate-General for an in-depth interview with a panel of former Marshall Scholars. With his announcement came additional good news: for the first time in twenty years, two Columbia University seniors have received the scholarship. Young Joon Kim '20CC, a Columbia College biology major and Design Challenge winner, will conduct computational biology research at Cambridge University for a year and then study the history of medicine at Oxford University.
"It's remarkable for there to be two Marshall Scholars from Columbia in one year," Bhardwaj says. "That has only happened a handful of other times in 66 years of the scholarship, the last time in the year 2000."
A longtime contributor to Columbia's Consilience: The Journal of Sustainable Development, Bhardwaj has served as this year's co-editor in chief. In his last semester as an undergraduate, he hopes to complete a number of publications on his solar fuels research and engage with energy opportunities in a range of real-world contexts. He also remains a leader in the university's EcoReps recycling committee, which implements smarter recycling on campus.
"Columbia has enabled me to develop my chief interests and tailor my undergraduate experience to laying the foundation for my career vision," Bhardwaj says. "I'm thrilled to continue building on this foundation through my Marshall experience and beyond as I endeavor to bring solar fuels to market."
Undergraduate students interested in the Marshall Scholarship are encouraged to contact Undergraduate Research & Fellowships for further information.