Amar Bhardwaj '20 Receives Prestigious Goldwater Scholarship
The award recognizes his research into making sustainable technologies more competitive in the marketplace
May 15 2019 | By Jesse Adams | Photo Credit: Jane Nisselson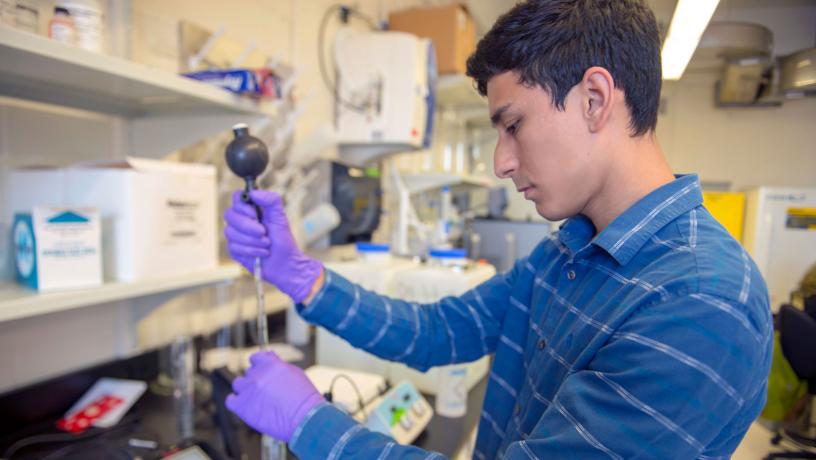 For his research into making solar power more practical on a mass scale, Amar Bhardwaj '20 just received his third major national recognition in the last two years.
This spring, the chemical engineer added Goldwater Scholar to his résumé. Considered the preeminent award for undergraduates in engineering, mathematics, and natural sciences—just 496 Scholars were selected from a nationwide pool of over 5,000 applicants—the award is conferred by the federally-endowed Barry Goldwater Scholarship and Excellence in Education Foundation.
"I'm honored that the Foundation is investing in me and my future engineering research career," said Bhardwaj, who will receive $7,500 for educational expenses. "The scholarship affirms my long-held career ambitions and encourages me to keep on striving."
He will also be granted access to the Goldwater alumni network of thousands of academic and research leaders from throughout the scholarship's 30-year history.
"This will be a huge boost towards my greatest ambition in research: mitigating climate change by developing solar energy technologies to replace fossil fuels," he said.
This latest honor comes on the heels of Bhardwaj winning a second Udall Undergraduate Scholarship, which recognizes leadership and public service in areas including the environment. Bhardwaj is one of a few recipients to earn the award twice; both installments of the Udall include $7,000 in funding and the opportunity to attend a summer program convening scholars, researchers, and advocates working on environmental policy and stewardship.
Initially a Science Research Fellow at Columbia College, Bhardwaj transferred to Columbia Engineering his sophomore year to set up a joint project with Professors Daniel Esposito of chemical engineering and Ngai Yin Yip of earth and environmental engineering. He's been investigating catalysts for solar fuels and ways to harvest hydrogen from seawater ever since, and will soon publish a paper as first author.
This summer, he will also travel to Caltech to conduct research on solar photovoltaics technology, working to incorporate a new highly efficient semiconductor into a functional solar cell. In the long run, he plans to earn his PhD in chemical engineering, specializing in solar energy research, with an eye toward joining the faculty at a research university.