Columbia's National Society of Black Engineers Chapter Honored for Impact
Apr 11 2017 | By Jesse Adams | Photo courtesy of Aria Perkins
A busy year of community outreach, youth education programs, and academic and professional development on campus has earned the Columbia University chapter of the National Society of Black Engineers (NSBE) the title of Regional Chapter of the Year. The honor, announced at the organization's National Convention this spring, follows recent recognition of the chapter's projects in New York and the surrounding region.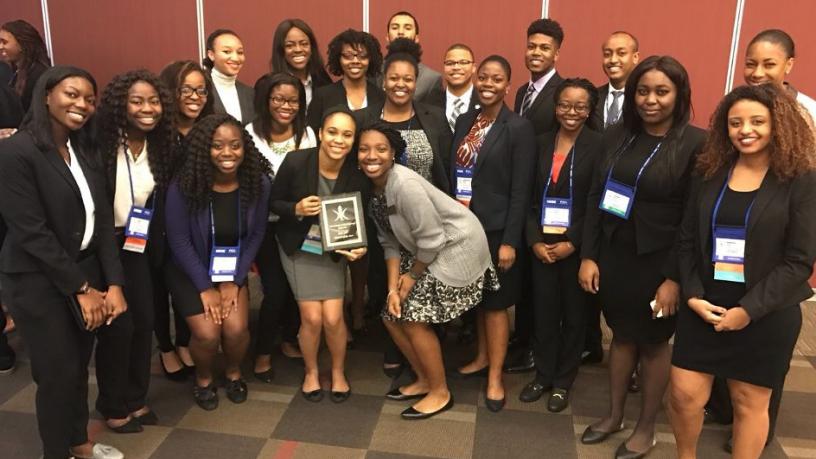 "We work hard to make a lasting impact on the lives of our members and the broader community," said chapter president Aria M. Perkins '17, a chemical engineer. "The chapter has provided mentorship, professional development, and company networking opportunities to help minority engineering students navigate the professional world, as well as offered a support system to make sure they receive the guidance and support they desire as they complete their years at Columbia."
In addition to hosting weekly meetings that include résumé workshops, alumni panels, and mock interviews, Columbia NSBE partners with the East Harlem School (EHS) for the NSBE's Pre-College Initiative, which helps get young students excited about STEM—science, technology, engineering, and math. Members tutor EHS students in math and science every Saturday morning as part of the school's Saturday Academy to help young students excel.
Over the past year, the chapter has held a Raspberry Pi programming workshop for middle school students; participated in A Walk for Education, an NSBE program that goes door to door in underserved communities with information about colleges, scholarships, and the STEM fields; and co-hosted a book drive for the homeless. During Engineering Week, the members co-hosted the Engineering Showcase with Columbia's Center for Career Education and organized the Navigating Your Network alumni event.
Columbia NSBE was recognized as Regional Chapter of the Month in September and Zone Chapter of the Month for both September and October at the NSBE's Fall Regional Conference. NSBE's six regions include the United States, Canada, and parts of West Africa.
"It's our goal to expose all minority students, and everyone on campus, to the invaluable skills and long-lasting relationships NSBE offers," Perkins said. "We want our chapter's impact on this campus to grow as rapidly as our impact outside it."