Columbia Engineers Win 2015 Alexander Schwarzkopf Prize
Jan 22 2015 | CPaSS was recognized for its "exemplary research contribution to technology innovation and its positive impact on the technology, industry, and to society as a whole."
On behalf of the Center for Particulate and Surfactant Systems (CPaSS), CPaSS Director Ponisseril Somasundaran, LaVon Duddleson Krumb Professor of Mineral Engineering, and Jun Wu, postdoctoral research scientist at Columbia Engineering, received the 2015 Alexander Schwarzkopf Prize for Technological Innovation from the Industry/University Cooperative Research Center (I/UCRC) Association Committee.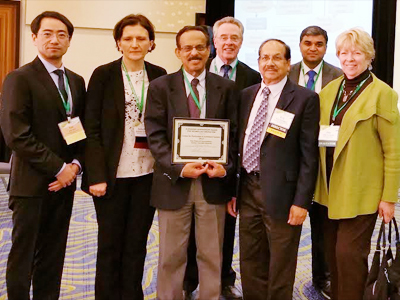 Wu (far left) and Somasundaran (center) were presented with the award at a celebratory luncheon.
Somasundaran and Wu were presented with the award at a celebratory luncheon on January 9. CPaSS was recognized for its "exemplary research contribution to technology innovation and its positive impact on the technology, industry, and to society as a whole." Established in 1998 by the Henry Krumb School of Mines, Department of Chemical Engineering, and Department of Chemistry at Columbia University, CPaSS develops and characterizes novel surfactants for industrial applications such as coatings, dispersions, deposition, gas hydrate control, personal care products, soil decontamination, waste treatment, corrosion prevention, flotation, and controlled chemical reactions. Its research is focused on the design and development of specialty surfactants, characterization of their solution and interfacial behavior, and identification of suitable industrial application for these materials.