Launch Day
Columbia Engineering Class of 2022 Kicks Off Day One
Sep 04 2018 | By Jesse Adams | Photo Credit: Timothy Lee Photographers
The next four years are the opportunity of a lifetime, Dean Mary C. Boyce told Columbia Engineering's Class of 2022, as they assembled on August 27 for the very first time. Hailing from 42 U.S. states and 33 countries, the 339 newly-minted first year students packed into Havemeyer Hall to kick off their undergraduate careers and gain insight from some accomplished Columbians.
As a top global research university operating at the intersection of almost every field and culture, Columbia fosters unique perspectives that enable students to quickly start making major impacts, noted Narayan Subramanian '13 '20LAW.
"Nine years ago I was sitting exactly where you are right now," said Subramanian, who applies his background in environmental engineering to a globe-trotting career confronting climate change through sustainable energy policy. "Just in five years since graduating I have really realized what that phrase 'Columbia Engineering for Humanity' truly means—I may be in law school now, but every day I'm using my engineering education in some way."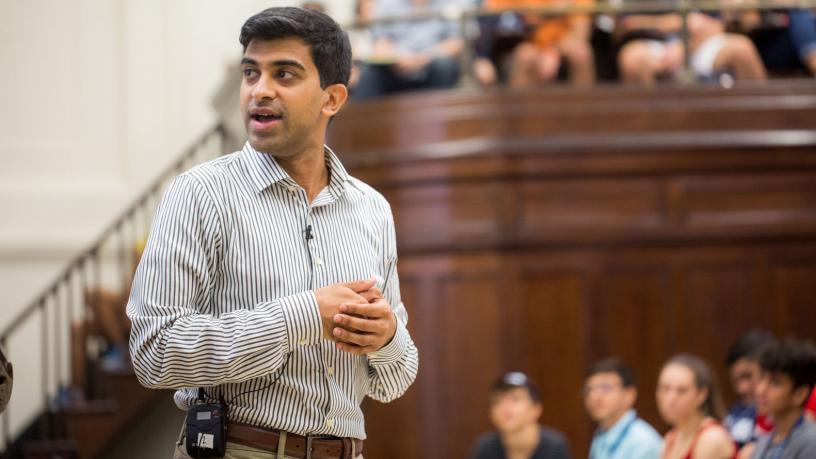 The vast range of interdisciplinary research on campus can be overwhelming at first, advised biomedical engineer Rachel Mintz '19, but students should dive right in—her own journey has included editing genes to make cancer cells more sensitive to chemotherapy, programming skin microbes to secrete natural mosquito repellent, and traveling to Rio de Janeiro as part of a design challenge for which she devised an energy-efficient air conditioning system.
"In addition to seizing opportunities that come your way, also make your own opportunities," Mintz said. "Something I've really learned at Columbia is that just because you might fail doesn't make you a failure. At the end of the day if you put in the time and put yourself out there, you never know."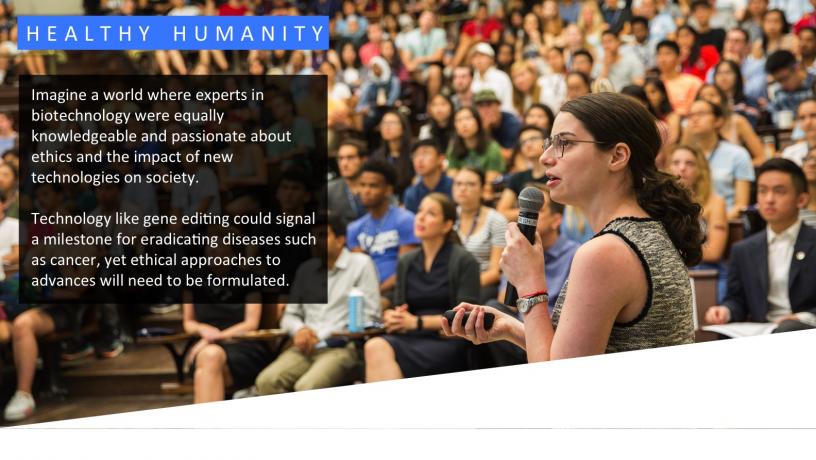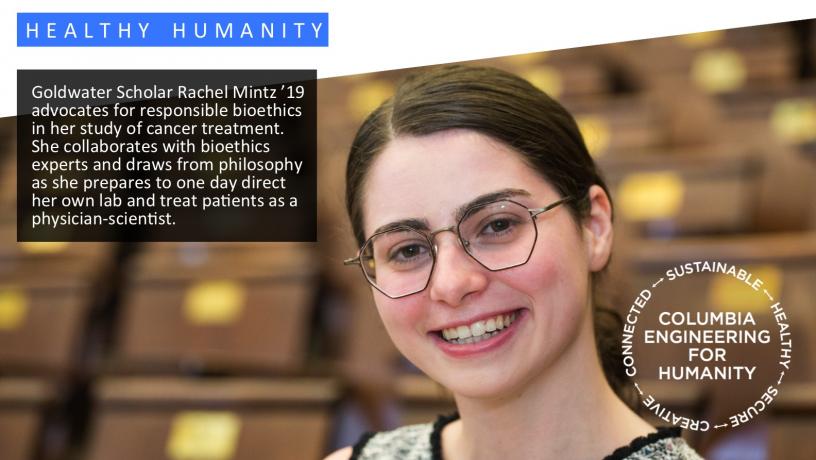 The class also heard from Columbia Engineering faculty. Allie Obermeyer, professor of chemical engineering, introduced students to her research developing innovative protein-based materials for various biomedical and consumer needs, while Gil Zussman, associate professor of electrical engineering, discussed his work as a principal investigator on COSMOS, the new 5G testbed for next-generation wireless technologies being installed around West Harlem and Morningside Heights.
"I've worked with fabulous groups of collaborators and colleagues, people ranging from evolutionary biologists to chemical engineers and everything in between," Obermeyer said. "Even if the person sitting next to you might have a different major, you can learn a lot from them, so I encourage you to make connections not just at SEAS or in your department but across the university."
First-years also received classic Columbia Engineering beanies and pledged to uphold the university's academic code of honor.
"Look around the room: these are going to be your peers, your study group, and your support network over the next four years," Boyce said. "We are so pleased to have everyone here together as a class."