Class of 2021 Kicks Off Day One
Sep 06 2017 | By Jesse Adams | Photos by Timothy Lee Photographers
The Columbia Engineering Class of 2021 celebrated the official start to their college careers on August 28, packing into Havemeyer Hall for SEAS' annual Academic Assembly that kicks off the fall semester. Joined by Dean Mary C. Boyce, biomedical entrepreneur Jason Kang '16, and several distinguished faculty and student mentors, the 320 undergraduates from around the world received a warm welcome, an inspiring glimpse of the cutting-edge science and technology being produced by their fellow Columbians, and a few tips for making the most of their years in Morningside Heights.
"From now on, you are all part of the extended Columbia family," Boyce said in remarks that touched on ground-breaking research in engineering, the applied sciences, and nearly every other discipline. "What unites us is a desire to use engineering skills to address some of the biggest challenges and questions in our world today."
Describing the interdisciplinary spirit that animates the Columbia Engineering for Humanity vision, the dean encouraged first-years to approach their studies with an eye towards creating maximal social impact and to seek out opportunities to collaborate intensively with fellow students and faculty, as well as alumni leaders like Kang.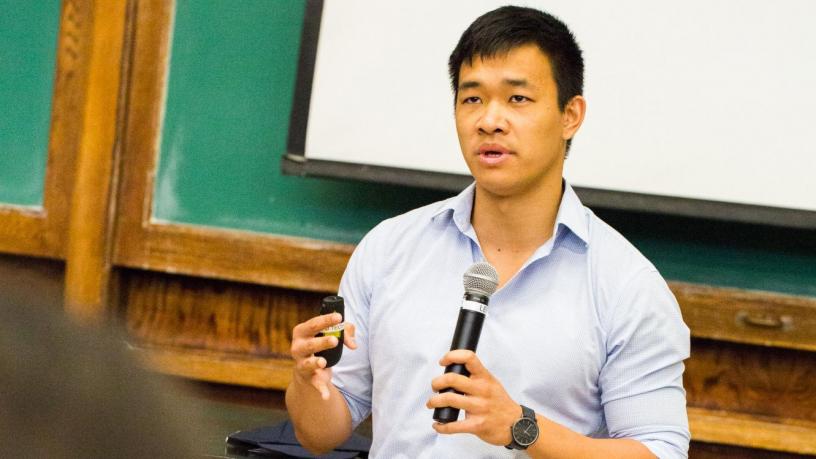 CEO and co-founder of Kinnos Inc., a New York-based startup that develops better means of infectious disease decontamination, Kang made Forbes' 2016 30 Under 30 list in the field of healthcare. Kinnos got its start at a 2014 Columbia Design Challenge seeking solutions for the Ebola crisis with a prototype for Highlight, a patent-pending additive that improves the visibility of disinfectant to help HazMat and biosafety workers ensure complete coverage of contaminated areas. The award-winning product has since been field-tested by healthcare workers in Liberia, Guinea, and Haiti. Kang also served as vice president of engineering at Jibon Health Technologies, Inc., where he invented a cheap medical device for treating postpartum hemorrhage.
"Life is fluid, and uncertainty is okay," Kang said, reflecting on how products he helped create as an undergraduate are now used around the world. "You will never feel fully prepared."
Incoming first-years also heard from Sunil Agrawal, professor of mechanical engineering and director of the Robotics and Rehabilitation Lab (ROAR) at Columbia, and Roxana Geambasu, associate professor of computer science and a member of the Data Science Institute. Agrawal talked about his work using robots and robotic exoskeletons for rehabilitation of stroke patients and others, while Geambasu outlined her research on protecting privacy and personal data in the context of the Internet of Things and other emerging technologies.
Later, Joshua Zweig '18, a computer science major focused on cybersecurity and entrepreneurship, offered a current student's perspective on life at Columbia.
"Choose to invest in yourself here," said Zweig, who has served as a teaching assistant, conducted research with faculty, and worked extensively with the Columbia Organization of Rising Entrepreneurs (CORE). "You'll find that more doors of opportunity open than close."
Together, the incoming class then pledged to follow the Columbia University Honor Code and, in longstanding tradition, received commemorative beanies to mark their membership in the Columbia Engineering community. Once a mandatory accessory on campus, the beanie is today a unique souvenir celebrating the beginning of an exciting new chapter.